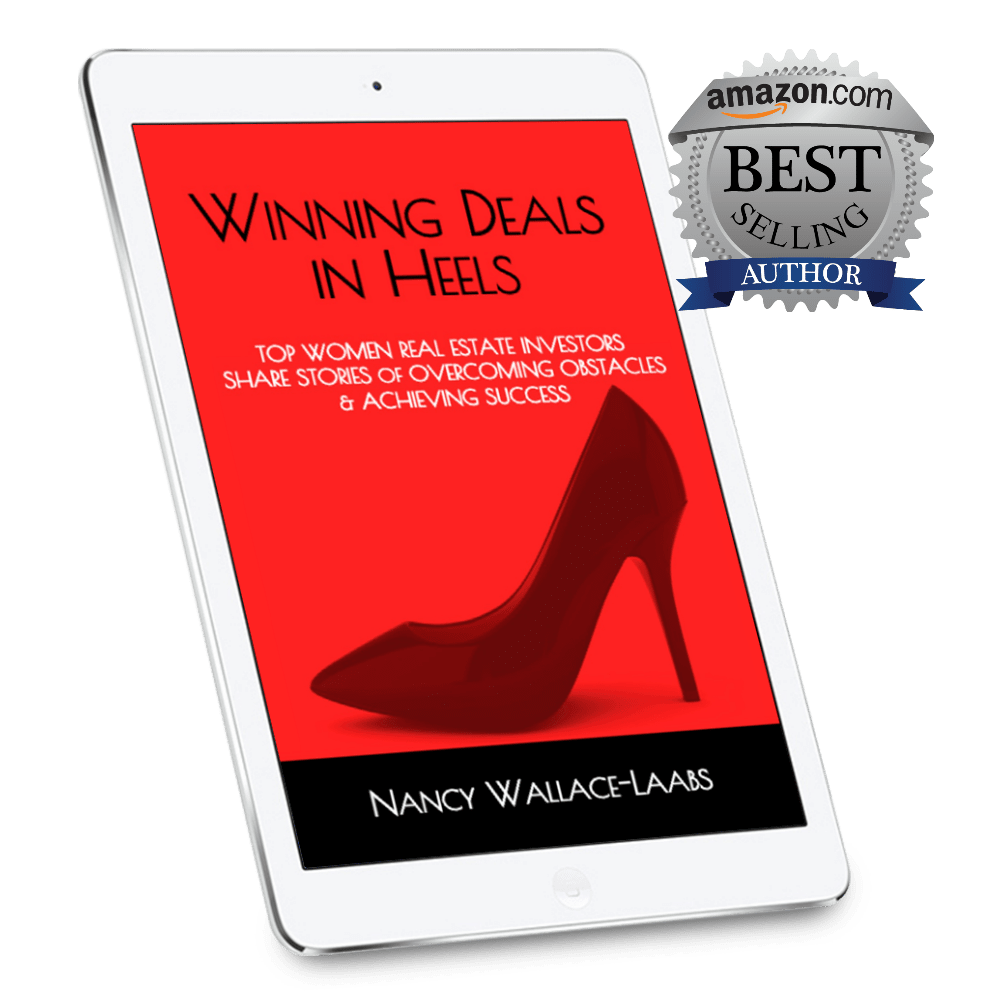 Winning Deals in Heels is about real women, experiencing real success, in real estate investing. No celebrity gurus or TV stars. These women are in the trenches, doing the work, every day! 
If you've thought about becoming a real estate investor, you will recognize the feelings of doubt and exhilaration described within these fascinating, inspiring, and motivating stories.
Winning Deals in Heels is a must-read for every woman who's interested in the real estate investment game.
Winning Deals in Heels, the new book by Frisco, Texas Real Estate Investor Nancy Wallace-Laabs, features Nancy's candid conversations with these highly-respected women real estate investors sharing the defining moments and lessons they learned on their journeys to success.
Sue Abrams
Ranger TX Solutions
Kristin Gerst
Capricorn Mortgage Investments
Shenoah Grove
Texas Wealth Network
Belkis Guifarro
WBT Partners LLC • Latino REIA Houston
Sandra J. Nesbitt
Reddtrow Properties, LLC
Amy Sayre
August Real Estate Investments, LLC
Lolita "Lo" Sheriow
Harrtstone Management, Inc.
Susan Tierney
S2 Equities, LLC • Casa Bella Tejas
Missi Lou Wilson
Northbrook Realty Group
Jamie Wooley
W Streets, LLC • Iron Heels Mastermind
Nancy Wallace-Laabs, together with her husband and business partner, Brian Laabs, co-founded KBN Homes, LLC, where they're making neighborhoods great again, one home at a time.
Nancy has more than 15 years of real estate investing experience, owns several rental properties, and manages properties in the North DFW area.
Since moving to Frisco, Texas, in 2005, the couple has helped hundreds of buyers, sellers, and investors achieve their real estate goals. By actively seeking homes that are difficult to sell, KBN Homes offers hope, relief and options that build value for individuals and communities.
What a great read! I've been involved in real estate for the past eight years, and there's always something new to learn. "Winning Deals in Heels" gave me so many new nuggets. It's refreshing to hear from successful women who have been in your shoes and are now excelling in real estate and paving the way for others! Can't wait to connect with these experts and use the knowledge I've gained to close more deals!
I loved the book. The women were very interesting. There was a lot of good advice for people wanting to get into real estate and investing.
"Winning Deals in Heels" was the kind of read every woman should treat herself to. It delves into real challenges with real solutions for women in real estate investing. If you're looking for that final inspiration to take the leap...this is the book for you. Informative, timely and motivational from start to finish.
Although the book is about successful women that share their struggles and successes, this read isn't just for women. It inspired me and gave me insight into what women face in a "male-dominated" field. Read this book, whether you're male or female, if you're looking to get into real estate investing or any other business. It could inspire you, too!
Surprise! While the focus is on women in real estate investing, you don't have to be a real estate investor (or a woman) to learn from this book. These compelling stories of creativity and perseverance over multiple obstacles will inspire anyone who aims to succeed in their chosen field or life in general.
Royalties from every retail purchase of Winning Deals in Heels go directly to helping people in our community.
We've chosen Hope's Door as our primary beneficiary for the valuable work they do in offering shelter to victims of domestic abuse, and helping to build lives without violence.